It's been a relatively "quiet" year from the SON team, but that has mostly been due to the whirlwinds of personal projects and commitments that have been the common theme of everyone's 2023 thus far. Still, we've managed to finish and are about to present the tidings from our main endeavour of the past 12 months or so, the recordings and testimonies from the election campaign period of 2022, or Sound Pressure Levels as we called it, coming soon to the archive and this blog.
It has not been all silent however – there was the Sound Art exhibition that we helped organize and that took place on March 10th – 19th at The Mall, Westlands, featuring SON's own Sophia Bauer alongside the artists Kevo Stero, KMRU and Manjahi Njoroge. In this piece, Sophia looks back at the experience of finally realizing a long-held idea, restating the team's desire to explore and develop the learning and practice of art and knowledge-building using the medium of sound.
SOPHIA REFLECTS ON THE MARCH 2023 SOUND ART EXHIBITION
I had been thinking about an exhibition of sound art in Nairobi for a few years. Firstly I wanted to show my installation Forest Scapes in Nairobi and secondly I wanted to show it along with other works from Nairobian artists, to shine a light onto this emerging scene. As early as 2019 I started reaching out to fellow artists to ask if they would be interested, and already then The Mall seemed a perfect place for that – I had noticed a few unused spaces that struck me as perfect locations for sound-based works as they would not interfere with each other, being in different rooms, yet could be experienced together in one space – just what we needed. And so I started conversations with the management of The Mall. But then Covid-19 happened and for the next two or three years my focus and that of the world shifted. The idea remained in my head though.
In 2023, at last, I managed to get some funding to bring the installation to Nairobi, from the German organization IFA – Institut Für Auslandsbeziehungen (Institute for Foreign Cultural Relations), a possibly worthwhile link for readers/artists who may want to exhibit in Germany or collaborate with German artists. Luckily, fellow artists Kevo Stero and KMRU, with whom I'd spoken all those years ago, where still on board and were to be joined by Manjahi Njoroge. I reached out again to the management of The Mall and was happy to find that the spaces I had seen earlier were still available.
The four spaces were easily apportioned: Kevo Stero's installation Obange inhabited a former liquor store on the ground floor of the building. In this work he explores the character of the Obange, a joker, clown, crazy person in the community, and asks: in certain situations, might anyone of us be not be the Obange? He uses the medium of radio to discuss this character, taking a mobile recording studio and micro-broadcast station to different parts of the city in search of so many Obanges-among-us. In his installation you could hear the different voices from past recordings/broadcasts as well as tune in to the ongoing live radio show – the signal could be received anywhere in the station's vicinity.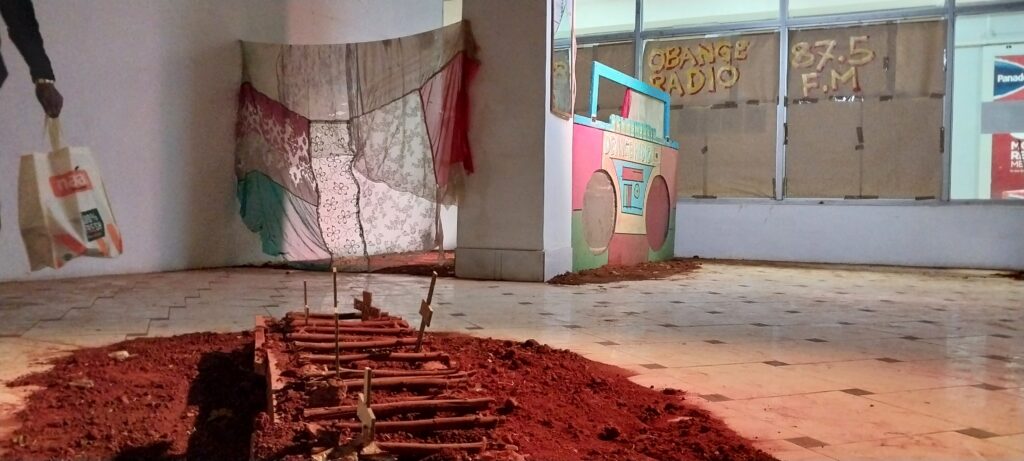 Manjahi Njoroge's piece A Bitter Taste – Coffee and Colonialism, made in collaboration with fellow artist Louise Adams, thematized the history of coffee entangled in colonial history, based on his family's coffee farm. A sound piece created from fragments of an interview of his father was heard, accentuating projected photos from everyday situations on the farm. Manjahi's space had two floors within it, allowing him to show some objects from the farm and give the piece some tangible context.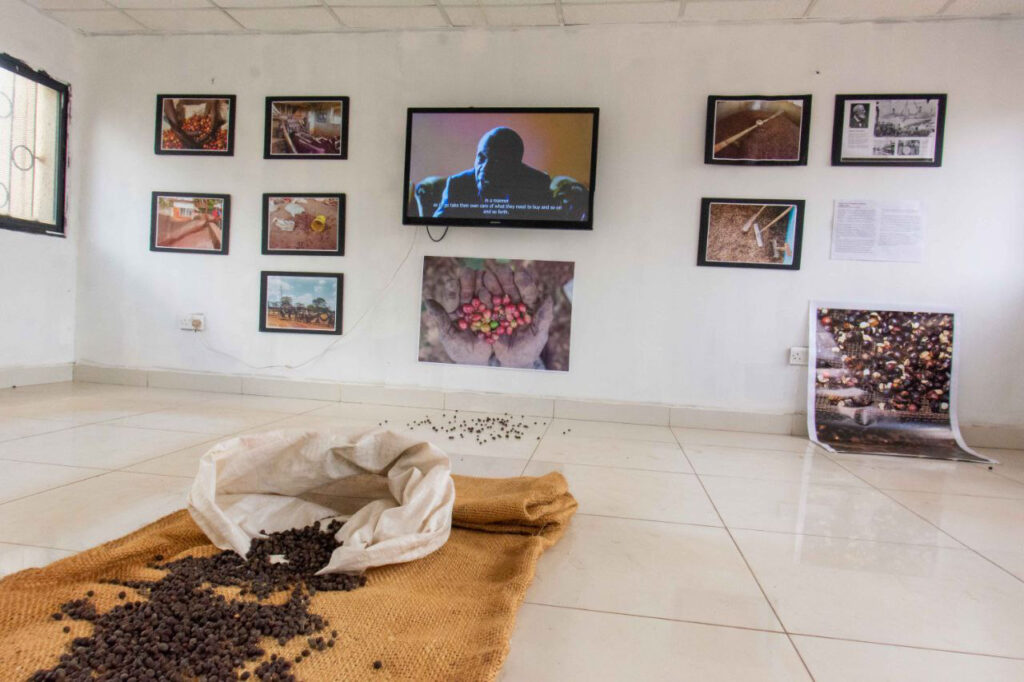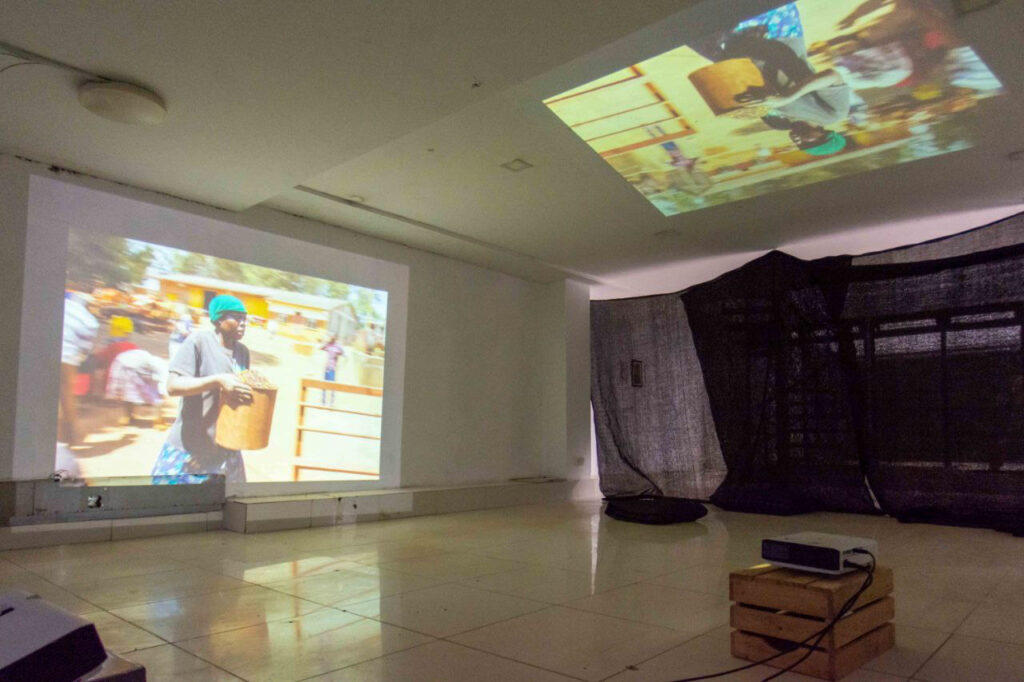 KMRU's piece had to be an easy set up – as he was not present for the exhibition period I had to set up his work in addition to mine. He proposed to show Taarifa Tafakari, a sound piece composed using fragments of voices from different election periods in Kenya sourced from various media platforms. We had two options for showing the piece in The Mall: The elevators or an office that still had the furniture of the previous occupant in it. To me the latter seemed perfect. It was almost like stepping into a theater setting, an office with too large desks and chairs for the tiny space. A radio sat on one of the desks playing KMRU's composition, creating a nicely ironic scene.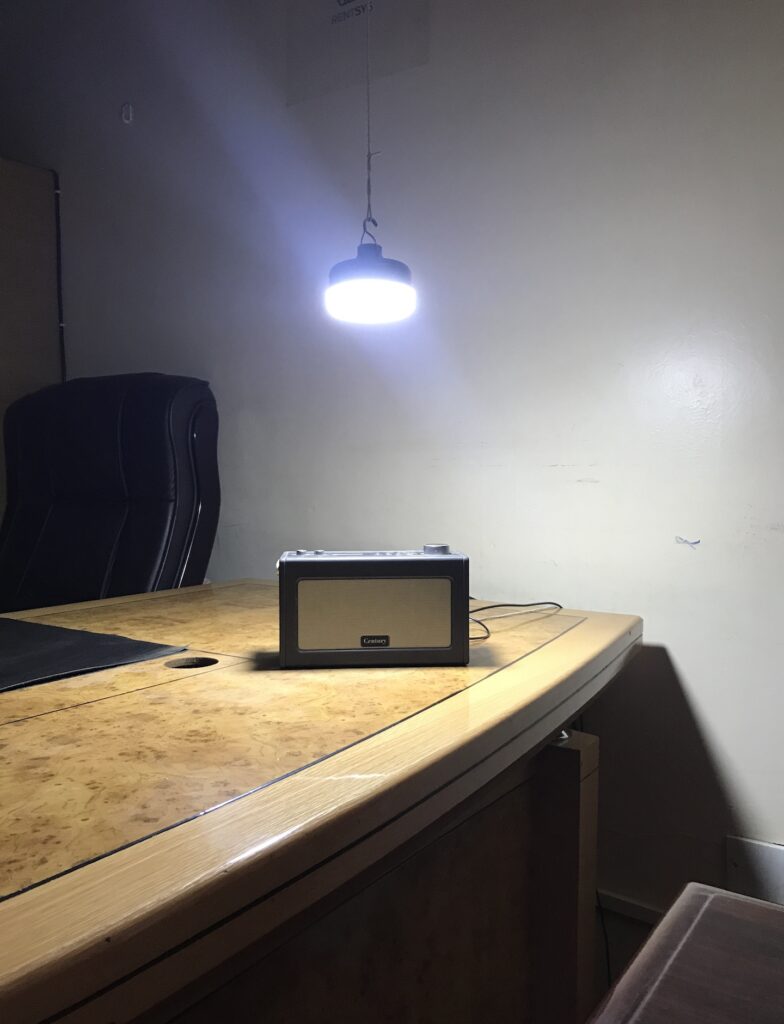 My installation Forest Scapes – Kereita Forest Block explores the influence of colonialism on forest ecosystems in Kenya, here the Kereita Forest Block, a Cypress plantation close to Kijabe, about an hour out of the city and towards the Rift Valley. It consists of 7 long strips of veneer – thin wood hanging from the ceiling. They function as vibrating resonators for tiny attached speakers playing different recordings from the forest and together they form a sonic mesh and flowing composition that can be experienced by listening as well as by touch. I set it up in a former jewelry store. The space was rough, the walls bare grey brick, a vault in the back and bars on the windows and doors. For me it seemed perfect, not sure why but when I saw the space the first time I knew the installation would work in there. I guess sometimes you have a feeling about these things.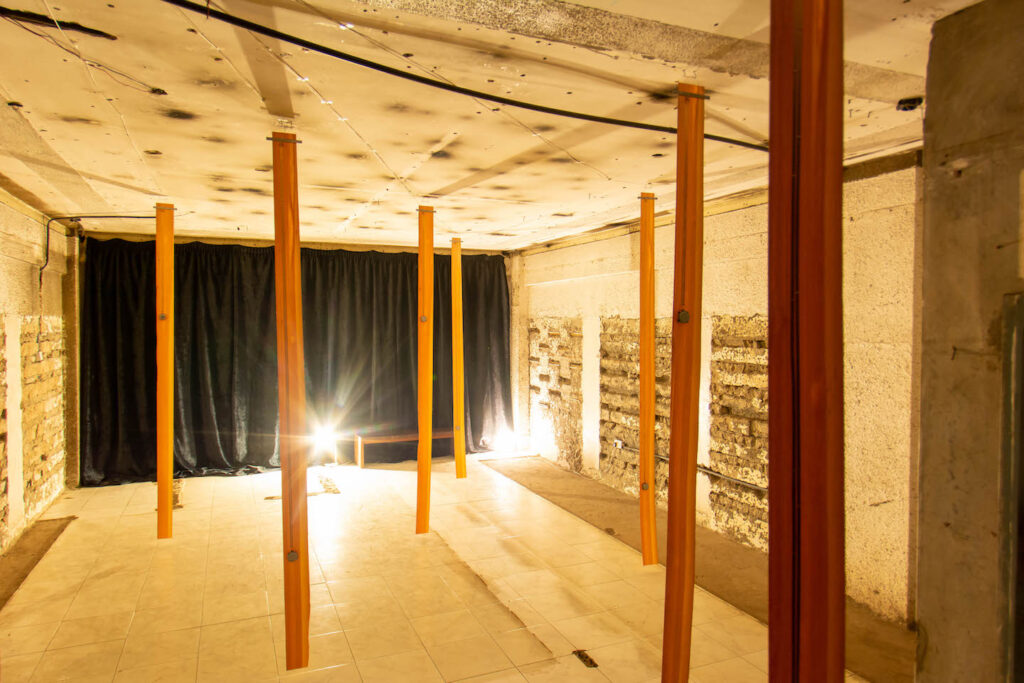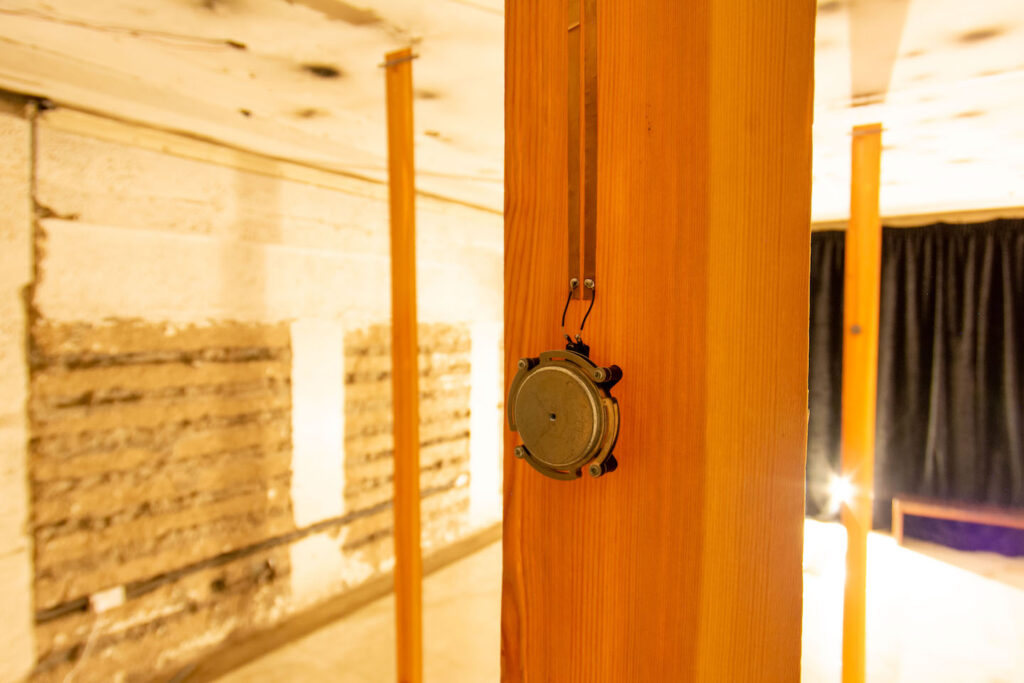 We all were busy setting up our spaces for 5 days. Things going wrong, getting fixed, improvisations made. It is a good challenge to set up in a space which is not designed as an art space like a gallery or a museum. I loved the interested and confused peeks into my space by the neighboring shop owners and regular visitors of the shopping mall. On the last day when I was testing the sound a man from the next door insurance office wearing a T-shirt with their logo stood in the door and said while staring at the thin wooden strips "This is most wonderful". It felt good to hear!
Behind the scenes Junniah Wamaitha was turning on all Sound of Nairobi's megaphones on social media to spread the word. We opened on a Friday evening. The one thing nobody prepared for: There was a team of street preachers holding a "crusade" at a street corner outside our building, and their PA system nearly had the whole building ringing with their loud music and passioned sermons, overwhelming the listening experience for the first hour of our exhibition opening. Thankfully, the Mall was much quieter over the rest of the exhibition's run.
Recap: SON's Raphael Kariuki and I had presented our EP Citysynthesis in a former bar with the name Santa Fe in the basement of The Mall in August 2021. Since then Raph and a group of enthusiasts for experimental music have established this space into a vibrant music venue called The Mist. The Mist happens on Fridays. Opening on a Friday evening meant to bundle the energy of the space and create a fantastic momentum. For me it was a wonderful experience and I was just so happ1WE4y we had made it. All installations were running and people were wandering through a dimmed shopping mall from one space of sound art to another finally ending up in the grungy and exciting sonic world of The Mist.
Since starting Sound Of Nairobi in 2019 we managed to gather people and artists that are interested in sound art, field recording and experimental music around us. For me this is one of the great achievements of our collective; Sound of Nairobi is on the one hand an online archive of field recordings of the city but also a place where Sound Art is promoted and can be discussed, where artists working with sound can meet and show their work.